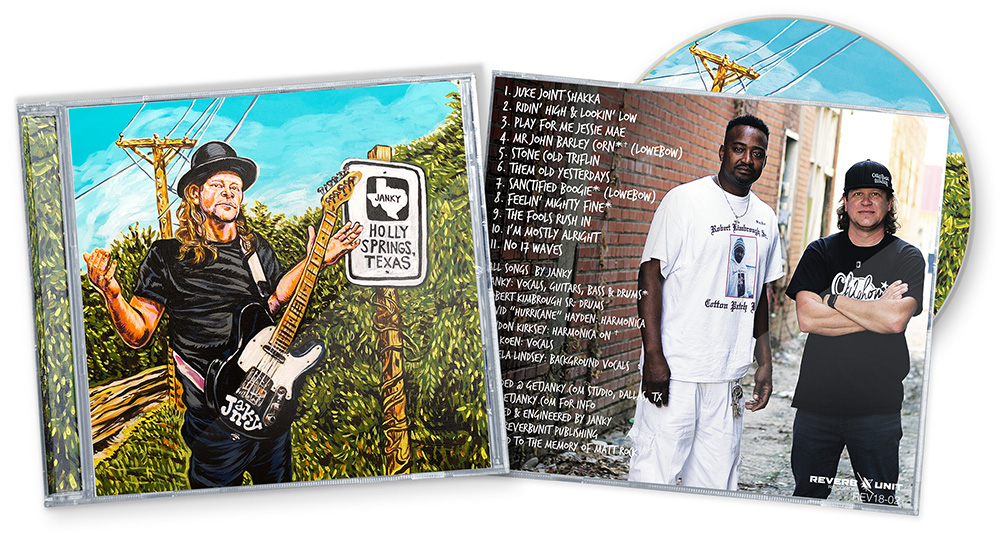 Press Release

Sept 25, 2018
Janky – Holly Springs, TX Release
(RU18-02)
ReverbUnit Records (ReverbUnit.com)
Contact:
ReverbUnit Records
(214) 734-4791
Dallas, TX songwriter/singer/guitarist has released his second self-produced CD, Holly Springs, TX. The title and music are drawn from Janky's influences from the music of Holly Springs, MS — the juke joint blues styles of David "Junior" Kimbrough and R.L. Burnside. Janky leans more on the Hill Country Blues side (R.L. Burnside) than Cotton Patch Soul Blues (Junior Kimbrough) but both styles are represented on this release. Holly Springs, TX is so titled since Robert Kimbrough Sr., son of Junior Kimbrough and Holly Springs, MS resident, plays drums on all but three tracks played by Janky himself. Robert's drum beats add a legitimacy and a certain level of "oomph" to Janky's guitar riffs. Janky has his longtime blues traveler David "Hurricane" Hayden on harmonica, as well as old The 1969s bandmate, Landon Kirksey.
The first track, Juke Joint Shakka,  comes out kicking like a strong pull of juke joint corn liquor, bound to make the most fickle bystander move to the dance floor. Janky gives his praise to a North Mississippi great on the track Play For Me Jessie Mae who is a huge influence. Janky features a special handmade cigar box guitar called a LoweBow on two tracks starting with his ode to the spirits on John Barley Corn and his praise to the Holy Spirit on Sanctified Boogie. The LoweBow is a handmade work-of-art made by John Lowe of Memphis, TN, and made famous by the likes of Richard Johnston, another huge influence on Janky. This particular version, similar to Johnston's, has a guitar and a bass in one instrument allowing Janky to lay down bass and guitar simultaneously. Janky has guest vocalist Elli Koen share vocals on the humorous track Stone Cold Triflin as well as her performing backup vocals throughout the CD. The remaining tracks become more complicated and intricate but still rely on the ever-important rhythm and driving guitar riffs. Feeling Mighty Fine has the hook that will stay with you all day. I'm Mostly Alright illustrates Janky's Junior Kimbrough influence. The last track, No. 17 Waves, is an impromptu track recorded on a Galveston, TX beach reflecting the vibes of being overtaken by a good guitar riff.
The CD cover was painted by Dallas artist Clay Stinnett who has painted many high-profile album covers to date. The liner notes were written by Dallas music promoter and blues impresario David Pippin. Holly Springs, TX will be available for purchase or stream October 5, 2018.
Janky lives in Dallas, TX and was mentored by the Texas blues great Reverend KM Williams. Janky has also played with Robert Kimbrough Sr. twice in Switzerland and all over Mississippi and Tennessee, as well as having played guitar on Robert's new CD, I Been Fixed also released under ReverbUnit Records. Janky can be seen alongside Robert in his feature article in Living Blues Magazine issue #253, February 2018. Janky is on a mission to bring the music of North Mississippi, a somewhat lost form of the blues, to a larger audience and can be found juking it up in Dallas with his band The Juke Joint Boys. Janky will be opening for Robert Kimbrough at Red's October 13  in Clarksdale, MS during Deep Blues Fest and hosting a CD release party at Guitars & Growlers October 27 in Dallas, Texas.
ReverbUnit Records is a homegrown record label based in Dallas dedicated to helping juke joint-style blues musicians release great music. Other ReverbUnit artists include Reverend KM Williams, Robert Kimbrough Sr. and EJ Mathews.
For more information, contact ReverbUnit Records.
(214) 734-4791