I love to make music. I have spent most of my life learning to make music as well as the methods and technology to record it. I enjoy producing all kinds of music. I do not limit myself to one style either. Blues is my main love but I have played and recorded anything from jazz to funk to rock and roll and sometimes a combination of all of the above. My record label is ReverbUnit and I release music that I like.
Janky – Holly Springs, TX
The title and music are drawn from Janky's influences from the music of Holly Springs, MS — the juke joint blues styles of David "Junior" Kimbrough and R.L. Burnside. Janky leans more on the Hill Country Blues side (R.L. Burnside) than Cotton Patch Soul Blues (Junior Kimbrough) but both styles are represented on this release. Holly Springs, TX is so titled since Robert Kimbrough Sr., son of Junior Kimbrough and Holly Springs, MS resident, plays drums on all but three tracks played by Janky himself. Robert's drum beats add a legitimacy and a certain level of "oomph" to Janky's guitar riffs. Janky has his longtime blues traveler David "Hurricane" Hayden on harmonica, as well as old The 1969s bandmate, Landon Kirksey.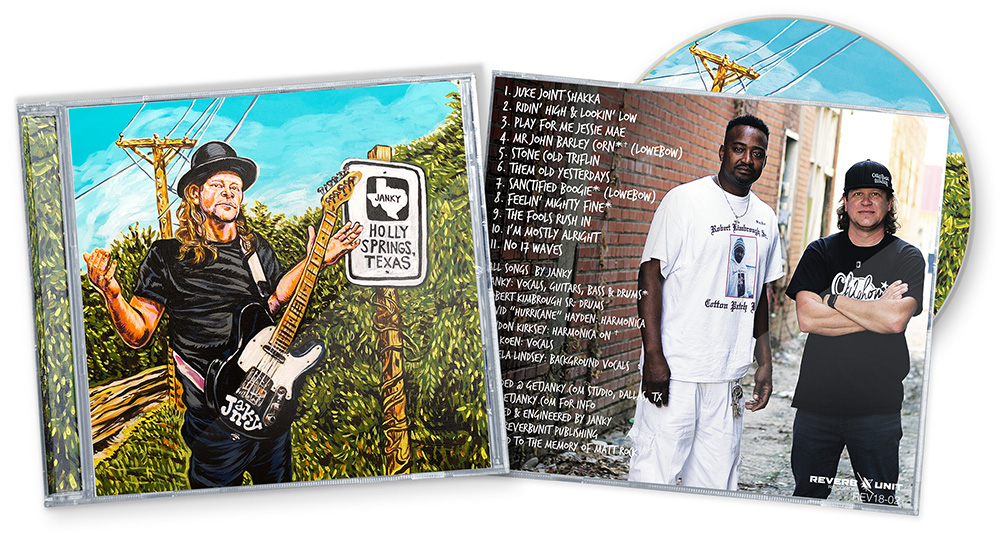 Janky – Them Grackles
Them Grackles is my first self-produced CD as Janky. Most of the songs were written while busking in Deep Ellum with drummer Sal Torneo. I invited Sal over and basically busked for the studio mics. The great harmonica player Jeff Stone played harp on most of the tracks. You can also hear my mentor, Reverend KM Williams, dropping knowledge on his band on the first track.
It's Horrible. I love It. What is it?
Besides playing the guitar, I also play many other instruments like sax and drums. This is a jazz project in which I played Fender Rhodes. This is a very Miles Davis Bitches Brew-influenced studio experiment. I had many great musicians on this release like Kevin Sprague on guitar and Doug Duhon on drums.