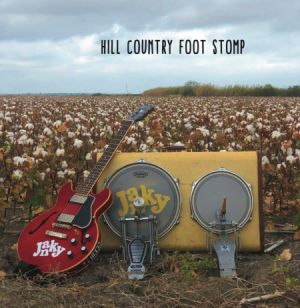 Janky – Hill Country Foot Stomp
Reverb Unit Records
9 tracks
A student of the music of Junior Kimbrough and R. L. Burnside, Janky is an Austin, TX-based musician who prefers up close and personal performances to the big concert hall. Mentored by Texas bluesman Reverend KM Williams and having produced and played with the two Kimbrough brothers (sons of Junior), Janky is well versed in both the blues and the throbbing and hypnotic sounds of the hill country. This is his third full-length CD and he plays all the instruments (except harp) on all but the final cut.
Janky gives us 8 originals and an interesting cover of the hymn "Amazing Grace" adapted as part of the final track "North Mississippi Amazing Grace." He handles the lead vocals, guitars, bass and suitcase foot drum. Cody Cotton play harp and backs Janky on vocals. The guests on the last cut are Ilana Katz Katz on fiddle and Jesson and Nikki Marie on backing vocals. Janky and Cody give this album a huge and rich sound in true hill country style, yet there is newness and freshness in their music. I guess you could describe it as hill country meets rock 2020 but in a throwback sort of way.
The album begins with "Ain't No Reason It's Just Because" where the hill country is stomping good, the harp is dirty and blazing and the vocals are upfront with them. It's in your face and fun. The guitar slides along with the lead vocals and harp and it's a raucous and rowdy good time. Following that is more modern take on hill country music with "On My Way Down," featuring more great harp and guitar work that remains in your face with a driving beat and just a great sound. A throbbing and pulsating beat in "You Like Mississippi Kudzu" with the guitar and feedback overlaid nicely on the beat. "Three Ways From Sunday" is up next, a more rocking sort of cut built on a standard hill country tune. The guitar solo again sits on the hill country beat but here it offers a juxtaposition in styles as it rocks somewhat ethereally and very coolly. "Southern Vapors" is a blend of late 1960's rock and a Junior Kimbrough or R.L. Burnside tune.
"Let's Go" is next with the guitar sounding like Elmore James mixed with hill country in a Bluesbreakers song with Cotton's harp blowing madly all over the place- just great stuff. The guitar punches and attacks with fingerpick upon fingerpick and the harp counters it with its own volley of blows. "Sho'Nuff Don't Know" follows. The pace is far less frenetic in a psychedelic rock sort of approach as Janky moans and then the replies come. Lyrically the song describes a break-up but emotionally the song is a jam band cut that is cut short after building musical tension and emotion.
"Damned These Old Long Days" is like a hot and lazy summer day with the heat rising from the banks of a river as the groove flows slowly like a river. The liner notes liken it to Led Zeppelin which I'd agree with but the harp work is better. Janky growls and lays out Page like licks and Cotton blends in some slick harp; the tempo picks up mid-song as the cut shifts gears into more of a traditional stomp. The guitar and fiddle open the final cut with the feel of Scottish bagpipes but instead of the Scottish Highlands we are in the Mississippi Hill Country with the stompbox, tambourine, fiddle, guitars and harmonious vocals. Janky takes a nasal but cool sort of approach with the lead as the female backing singers to add a church-like element. The fiddle continues the vibe of the bagpipes as Janky breaks into a subdued guitar solo with all humming the vocal lines before he reprises the first verse to make you think he will close things out. An instrumental conclusion actually follows the first "ending" as if the angels flew down to hill country and put on their boots and overalls to conclude things for the band.
Well, that was a wild ride. 1960's rock, alternative rock, hill country music and then a little church music give us a satisfying and powerful album of music to enjoy. It's nice to see a modern and updated take even using rock from the 1960s as a means to give it an update. Janky plays and sings with exuberance and Cotton blows some really mean harp in support.
I didn't really know what to expect but I really enjoyed this one and fans of hill country blues and rock can find a middle ground to enjoy here. Highly recommended!
Reviewer Steve Jones is president of the Crossroads Blues Society and is a long-standing blues lover. He is a retired Navy commander who served his entire career in nuclear submarines. In addition to working in his civilian career since 1996, he writes for and publishes the bi-monthly newsletter for Crossroads, chairs their music festival, and works with their Blues In The Schools program. He resides in Byron, IL.
For other reviews on our website CLICK HERE